Shinjuku ⇔ Matsumoto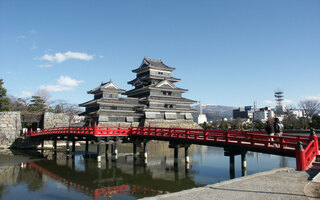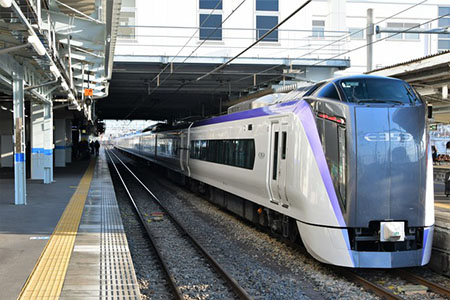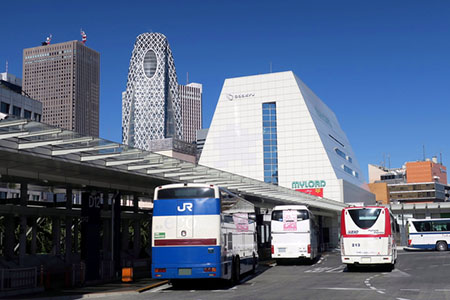 Matsumoto, where it has Matsumoto castle is the famous city for foreign tourists. Matsumoto castle is famous for its beautiful black look which is unique among castle in Japan.
Matsumoto has good access to "Kamikochi""Okuhida""Takayama""Hakuba""Kisoji" which are also the famous sightseeing spot.
Train and express bus are the way to visit Matsumoto from Tokyo.
Both of them are able to access from Shinjuku, one of the best access station in Tokyo.
Compare the two access
Train (JR Chuo line, Limited express Azusa):Required time⇒150 minutes Cost⇒6,500 Yen
Train (JR Chuo line, local train):Required time⇒About 300 minutes Cost⇒4,000 Yen ※Changing trains are necessary.
Express bus:Required time⇒About 200 minutes Cost⇒3,800 Yen
Shinjuku → Matsumoto
Transportation
Shinjuku(Dep.)
→
Matsumoto(Arr.)
Bus
6:05
→
9:23
Azusa(train)
7:00
→
9:38
Bus
7:05
→
10:23
Azusa(train)
7:30
→
10:23
Bus
7:55
→
11:13
Azusa(train)
8:00
→
10:37
Bus
8:55
→
12:13
Azusa(train)
9:00
→
11:39
Bus
9:55
→
13:13
Azusa(train)
10:00
→
12:36
Bus
10:55
→
14:13
Azusa(train)
11:00
→
13:25
11:30
→
14:11
Bus
11:55
→
15:13
Azusa(train)
12:00
→
14:31
Bus
12:55
→
16:13
Azusa(train)
13:00
→
15:37
Bus
13:55
→
17:13
Azusa(train)
14:00
→
16:38
Bus
14:55
→
18:13
Azusa(train)
15:00
→
17:37
Bus
15:25
→
18:43
15:55
→
19:13
Azusa(train)
16:00
→
18:34
Bus
16:25
→
19:43
16:55
→
20:13
Azusa(train)
17:00
→
19:37
Bus
17:25
→
20:43
Azusa(train)
17:30
→
20:16
Bus
17:55
→
21:13
Azusa(train)
18:00
→
20:41
Bus
18:25
→
21:43
18:55
→
22:13
Azusa(train)
19:00
→
21:42
Bus
19:25
→
22:43
19:55
→
23:13
Azusa(train)
20:00
→
22:38
Bus
20:25
→
23:43
Azusa(train)
21:00
→
23:46
Bus
21:05
→
0:23
21:45
→
1:03
22:25
→
1:43
Express bus online reservation
Matsumoto → Shinjuku
Transportation
Matsumoto(Dep.)
→
Shinjuku(Arr.)
Bus
4:20
→
8:13
4:50
→
8:43
5:20
→
9:13
6:20
→
9:38
Azusa(train)
6:25
→
9:12
6:50
→
9:26
Bus
6:50
→
10:08
7:20
→
10:38
7:50
→
11:08
Azusa(train)
8:00
→
10:31
Bus
8:20
→
11:38
Azusa(train)
8:40
→
11:17
Bus
8:50
→
12:08
Azusa(train)
9:10
→
11:45
Bus
9:20
→
12:38
9:50
→
13:08
Azusa(train)
10:10
→
12:33
Bus
10:20
→
13:38
Azusa(train)
11:10
→
13:42
Bus
11:20
→
14:38
Azusa(train)
12:10
→
14:41
Bus
12:20
→
15:38
Azusa(train)
13:10
→
15:41
Bus
13:20
→
16:38
Azusa(train)
13:45
→
16:24
Bus
14:20
→
17:38
Azusa(train)
14:50
→
17:26
15:10
→
18:04
Bus
15:20
→
18:38
Azusa(train)
15:50
→
18:36
Bus
16:20
→
19:38
Azusa(train)
16:30
→
19:06
17:18
→
20:08
Bus
17:20
→
20:38
18:20
→
21:38
Azusa(train)
18:40
→
21:06
Bus
19:00
→
22:18
Azusa(train)
19:28
→
22:07
bus
19:50
→
23:08
Azusa(train)
20:10
→
22:45
Bus
20:20
→
23:38
21:00
→
0:18